Energy Efficient Ultimate Home Comfort!
Our Geoexchange solutions can provide you with clean, quiet and low energy heating, cooling and hot water all year round.
Why Geoexchange?
Due to the versatile nature of geoexchange we can offer a solution to suit you and your home. A few of the many great benefits are listed below:
Home Comfort
Exceptional home comfort can be achieved thorough ducted heating and cooling or hydronic underfloor or radiator panel heating.
Low Energy
It is proven that geoexchange heating and cooling solutions can be the most efficient system available therefore offering greater comfort while using less energy.
Clean and Quiet
Geoexchange heat pumps are quiet and clean. Giving you the level of comfort you desire without any interruption to the way you live.
Did You Know?
Up to 21% of a home's energy use is consumed for hot water and up to 40% of a home's energy use is consumed for heating and cooling?
Nearly every day we hear about the rise in the cost of living and the pressure that creates on families. There are certain things that we can't control and then there are the things we can. By selecting truly energy efficient heating, cooling and hot water solutions for your home you can take control!
What is Geoexchange
Geoexchange (sometimes referred to as geothermal or ground source) is a heating, cooling, hot water and pool heating solution that can utilises the near consistent temperature of the earth, ground water, lakes, dams or ponds as a heat exchange to provide a very high efficiency comfort solution.
Learn more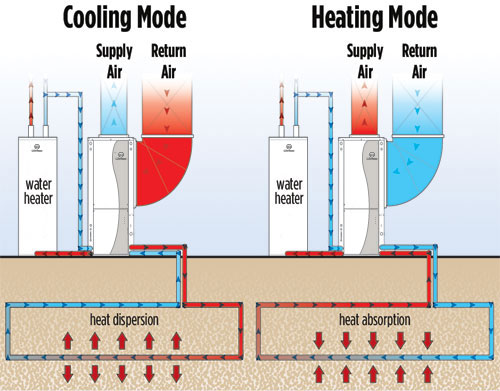 Delivering Comfort
To incorporate a Geoexchange solution into your home we have a number of options available to suit you. To enjoy energy efficient home comfort we can utilise ducted heating and cooling and/or hydronic underfloor or radiator heating.
Find out more