As well as being very energy efficient when providing heating, cooling or hot water solutions geoexchange system can also be very versatile and reduce the amount of equipment you would require with a conventional system.
In this blog post we will start to look at the heat pump systems we can provide as part of a geoexchange heating, cooling and/or hot water package for your home. As one of our specialist areas is in the design, installation and servicing of hydronic infloor heating systems we are often looking at projects for clients that have a desire to enjoy the energy efficient comfort hydronic infloor heating can provide.
Often than not people do not realise that we have a total comfort solution that as well as providing heated water for your infloor heating, from the same unit we can provide cool air for your home via a ducting system. To achieve this WaterFurnace have created a packaged unit named the Synergy3D.
Sizes and Efficiencies 
The versatility of the WaterFurnace Synergy3D sees the unit available to us in four sizes up to an output of 15kW. This makes it a very good fit for a lot of home designs and layouts especially trying to fit it into what are commonly reduced plant rooms/ area in modern homes. The efficiencies we can achieve from the Synergy3D geoexchange heat pump are in the region for cooling of between a COP 4.3 to 6.8 and a heating COP of 3.5 to 4.3. 
Smart

aesthetics

,

clever

 design
The well thought out construction of the Synergy3D includes a heavy-gauge metal cabinet this is coated with a durable metallic finish for long lasting beauty and protection. At the heart of the unit is a Copeland dual capacity scroll compressors provide outstanding performance and reliability, while utilising ozone-safe R-410A refrigerant. Variable speed ECM blower motors pass the air for your ducting through coated air coils that add durability and a longer life to the unit. This all helps to provide a unit that is quiet in operation.
A sophisticated inbuilt microprocessor controls all components during operation for optimum performance.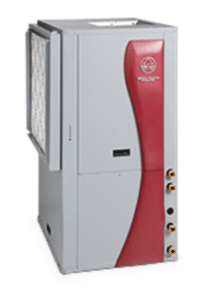 An added bonus!
One of the downsides to an infloor hydronic heating systems is that in the seasonal shoulder periods when its not cold enough to have your floor heating on but you require a little bit of heat you can be stuck. This is where the Synergy3D comes into its own, as you have it hooked up to your ducting to provide you with cool air in the summer it can also provide you with heated air through that same ducting system. With the Synergy3D your covered all year round no matter what the weather!
Add on Free Hot water?
 When using a Synergy3D geoexchange heat pump system for heating and cooling your home you have the option of adding on supplementary hot water with the addition of what is referred to as a desuperheater. The way it works with a Synergy3D heat pump is that it preheats your water (that is stored in a hot water tank) when the heat pump is running. The longer the unit operates, the greater the amount of hot water is generated. In the heating mode the hot water is generated at the efficiency the unit is operating at. In cooling, waste heat is recovered and hot water is free! 
To find out more about how a Synergy3D geoexchange system could be a great solution for your home click below and get in contact.
[btnsx id="164″]
Blog resources:
To find out more about hydronic heating – click here to visit Adelaide Hills Hydronic Heating
Visit the WaterFurnace website to learn more about the manufacturer of the Synergy3D geoexchange heat pump.