Hydronic underfloor and radiator heating can provide the most efficient and comfortable form of heat to your new or existing home.
What is Hydronic Underfloor Heating?
  Hydronic underfloor heating is a clean, safe and hidden form of heating for your home or building. The installation of your system will consist of a network of purpose made pipework installed within the structure of your floor. Warm water is circulated through this pipework letting the heat transfer into your floor and radiate up from the floor surface and into the room. This option is most suitable to be included in the build of a new home but we do have option to retrofit to existing homes also.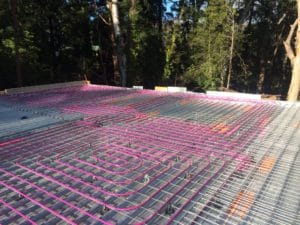 What is Hydronic Radiator Heating?
A Hydronic radiator heating system consists a heat emitter in the form of a wall mounted panel. The heated water is circulated through a network of pipes and circulates through the wall mounted radiator panels. These in-turn emits heat into your room. Radiator panels are a good option for new or existing homes.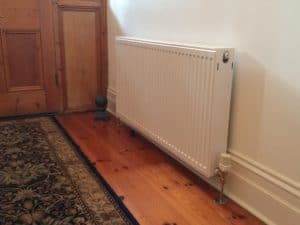 How does a geoexchange system work with hydronic heating?
A geoexchange system can utilise what is referred to as a water to water heat pump. This means that the water in the ground loop side (source side) of the geoexchange system transfers heat to the water in the heating system (load side). A hydronic geoexchange heat pump can provide water upto a temperature of 65 deg celcius, this gives us a wide range of operation temperatures to suit a hydronic water based heating system.
The temperature of the water that needs to be supplied to the heating system will depend on the style and installation of the system inside the home. Floor heating requires a flow temperature of between 40 to 45 degrees celsius and a radiator system will require between 45 to 65 degrees celsius.
Often we are asked if 45 to 65 degrees celsius water temperature is suitable for a radiator systems. The answer to this is yes in most cases. Traditionally radiators needed to run at 75 to 85 degrees celsius flow temperature but with the advancement of technology and the gradual change to better and more efficient building methods  a wide range of radiator panels available today are suitable to run at lower flow temperatures.
Energy efficient hydronic heating?
With a geoexchange system you have the peace of mind of knowing that the system efficiencies are not affected by the change in the outside air temperature. This is due to us utilising the year round near stable temperatures below the ground. Also as a geoexchange system has a stable source temperature the power input is much more stable this makes it a very good option when looking at Solar PV to provide some or all your power to your home. A properly designed geoexchange system coupled with a quality Solar PV system will see you enjoy many years of heating comfort without the worry of any bill shock.
To find out more about how a hydronic heating systems incorporating a geoexchange heat source could be a great solution for your home click below and get in contact.