Air to Water Hydronic Heat Pumps
 If you're looking for an energy efficient means of providing your home with hydronic underfloor heating or hydronic radiator heating system the next best option to our Geoexchange heat pumps is to select a quality air to water hydronic heat pump. Hydronic air to water heat pumps harvest the natural stored renewable energy in the air to efficiently create heated and chilled water. We have selected units from two of the worlds leading manufactures that we feel are the best quality with the highest efficiencies on the market. 
The Uses of an Air to Water Hydronic Heat Pump
The main use for a hydronic heat pump is providing heated water to your hydronic underfloor heating system, but they can also be used to provide heated water to hydronic radiators, hot water for domestic purposes (washing etc), pool heating and can often be reversed to cool water for hydronic underfloor cooling and forced air fan coil cooling.
The Difference with Our Air to water hydronic Heat Pumps
As not all hydronic heat pumps are created equal we have carefully selected our hydronic air to water heat pumps based on quality, efficiencies and control to give you a hydronic heating system that will give you many years of trouble free comfort. For this reason we currently provide heat pump systems from Stiebel Eltron, EcoForest and NIBE. All of which are being manufactured in Europe to meet an extremely high testing regime that is not replicated anywhere in the world. Another huge difference between most other hydronic heat pumps on the Australian market and the Stiebel Eltron, EcoForest and NIBE air to water heat pumps is the control system supplied with the heat pump is integral to its greater efficiency. Where most heat pumps except an "dumb" on/off signal from your control system the Stiebel Eltron, EcoForest and NIBE heat pump monitors internal home temperature, external air temperature and the temperature of the water in your heating system and adjusts it accordingly giving you a greater level of comfort and a higher level of efficiency.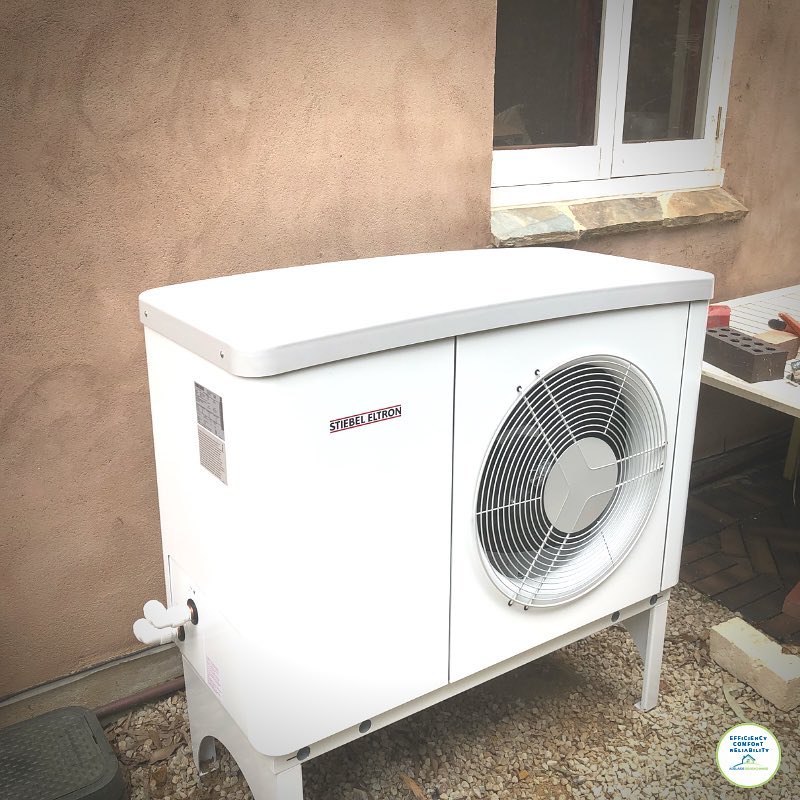 Air to Water Heat Pump System Overview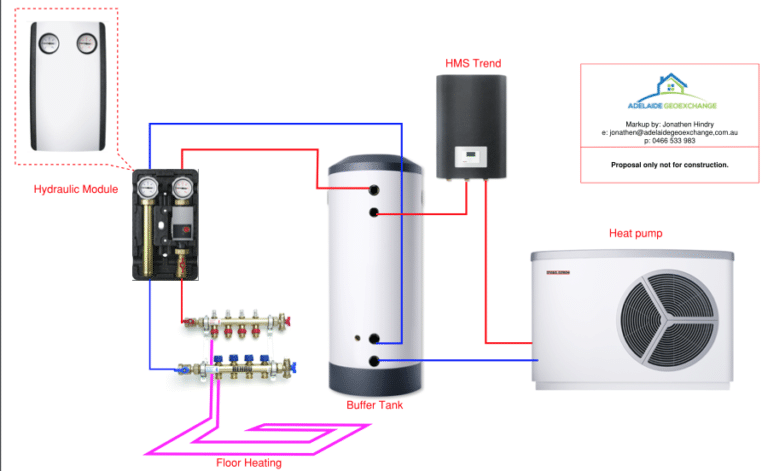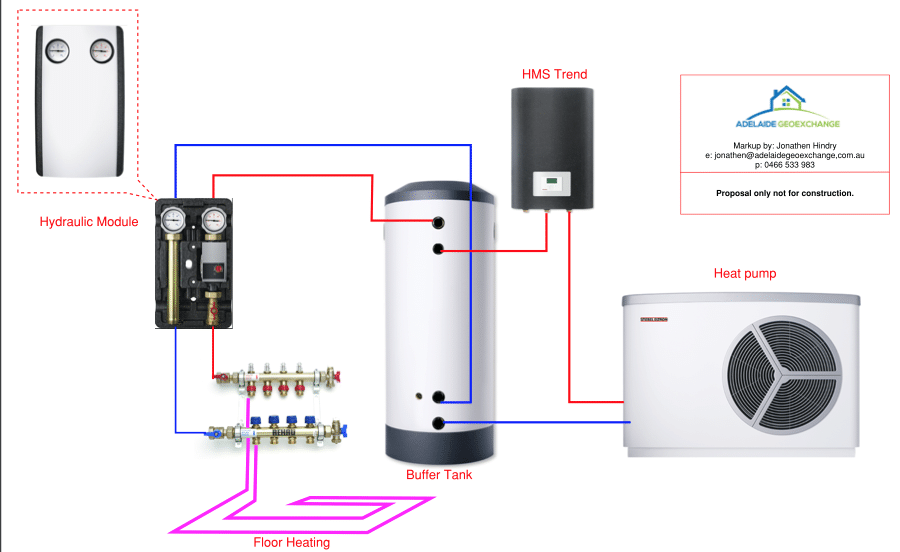 The above diagram shows and overview of a hydronic underfloor heating system utilising a Stiebel Eltron air to water hydronic heat pump. You will see a heat pump, HMS trend heat pump controller/pump set, buffer tank and a hydraulic module. Using the above kit gives you a total system solution. 
Made in Germany

Outdoor installation to harvest energy from the air and turn it into comfortable warmth in your home

Single phase and 3 phase models available

High efficiency due to vapour injection technology: COP of 5

Advanced inverter technology ensures high efficiency

Market leading sound technology: quiet operation at 46 dB(A) from 1 m distance

65°C flow temperatures – suitable for radiator heating

Designed for Australian homes

Suited for new builds as well as renovations

Natural defrost function for energy efficient operation even in cold climates down to -20°C

Smart Grid and Solar PV ready
Peace of Mind
Stiebel Eltron started life in the 1930's manufacturing instantaneous water heaters adding the development and manufacturing of heat pumps in 1976. This gives us confidence that not only has the company been around for a while they have over 40 years of heat pump experience. This is a rarity in hydronic heat pump manufactures bringing equipment into Australia with most being made in China often pieced together with inferior components.
Made in Spain

Power range: 1-9 kW / 3-12 kW / 5-22 kW;

Heating;

Active cooling;

Simultaneous heat and cool;

Quick and sensible control through internet, using ecoSMART easynet module;

Domestic hot water production with external cylinder;

Integrated HTR technology;

Single phase (230V) and three phase (400V) power supply options;
In installations where the geothermal option is limited or not available, the Aerothermal unit is the solution. This unit allows the ecoGEO heat pumps to use external air as source of energy.
The AU12 is equipped with a very silent and highly efficient axial Ziehl-Abegg fan, that with our exclusive defrost technology allows to significantly increase the seasonal performance factor (SPF). This system completely eliminates the idle times of the heat pump during defrost cycle, because isn't necessary to invert the refrigerant cycle or to activate external electrical heaters during the process.
Air/water heat pumps for residential use.

Inverter controlled compressor

Cooling Function on some models

Single phase and 3 phase models available

Compact Dimensions

Suitable for new builds and renovations
A company of growth
NIBE is a global group that helps make the world more sustainable through its solutions for indoor climate and comfort and its components and solutions for measurement, control and electrical heating. NIBE has more than 60 years of experience manufacturing products intended for both household and commercial use. From its roots in southern Sweden, NIBE now has operations and sales on five continents. NIBE's first heat pump was manufactured in 1981.
Commonly asked Hydronic Air to Water Heat Pump questions