What is Geothermal Heating and Cooling
 Geothermal Heating and Cooling (also referred to as Geoexchange or Ground Source) is a Heating, Cooling, Hot Water and Pool Heating Solution that utilises the stable temperatures below the ground or in bodies of water to provide year round energy efficient comfort. 
When heating a Geothermal system removes heat from a source (the ground or water) and utilises a heat pump to increase the temperature to a level that is useable to heat your space, hot water or pool. 
When cooling the Geothermal system does the reverse and extracts the heat energy from the air inside your home or building and moves back to the source (the ground or water).
Geothermal Heating and Cooling has been utilised in South Australia since the early 90's with a great number of those units still running, in recent years St Peter's College in Adelaide converted their pool heating and space conditioning systems to a Geothermal Heating and Cooling solution saving then 2/3rds of the facilities running cost.
Discuss your Geothermal Heating and cooling requirements today: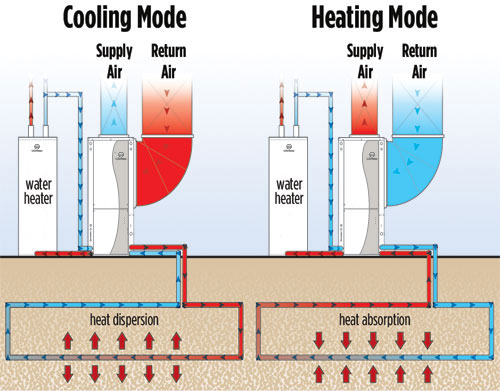 The Benefits of Geothermal Heating and Cooling
We can deliver efficient solutions that include the following:
If you would like to learn more or find out further information on Geothermal Heating and Cooling Solutions please visit our main site.