If you're looking for an energy efficient means of providing your home with ducted heating and cooling, hydronic infloor heating, radiator heating, hot water heating or pool heating our heat Pumps could be the answer. With our range of heat pumps we are able to harvest the natural stored renewable energy in the air, the ground and bodies of water to efficiently provide comfort to your home or building. We have selected units from the worlds leading manufactures that we feel are the best quality with the highest efficiencies on the market. 
What is a Geoexchange Heat Pump?
A Geoexchange Heat Pump is a water source heat pump meaning that it uses water in the heat exchange process between the source and the refrigerant side of the system.
What is a Geoexchange Heat Pump used for?
Geoexchange heat pumps are available in two main types, Water to water heat pumps that provide heated and chilled water for things like hydronic floor heating and cooling system, heated water to hydronic radiators, hot water for domestic purposes (washing etc), pool heating and chilled water to fan coils for cooling and Water to air heat pumps that can provide heating and cooled air to a space via ducts and outlets .
We have access to a wide range of water source heat pumps in both water to water and water to air configuration to suit all applications.
To learn more about what Geoexchange is head here to our Discover Geoexchange page.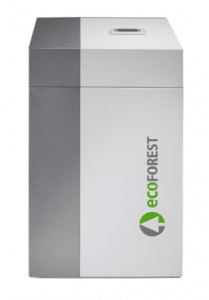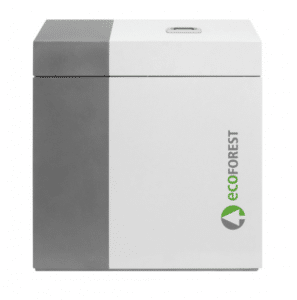 Made in Spain
Water and water heat pump
Available in 1-9kW, 3-12kW, 5-22kW 12-40 kW, 15-70 kW, 25-100 kW
Ecoforest domestic and commercial range of ground source heat pumps allows to reduce up to 80% of the energy consumption of a house, using a renewable source of energy that minimises the CO2 emissions to the environment.

The Ecoforest department, after several years of development, was able to produce a very compact and easy to install heat pump keeping on it all the controls necessary to regulate your house temperature. Thanks to the Inverter technology and ecoGEO controls strategies, the ground source heat pump ecoGEO is the most versatile and intelligent heat pump available in the market. Unlike traditional heat pumps, the ecoGEO adapts to the needs of the installation.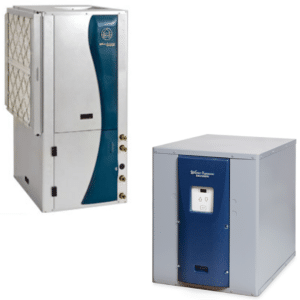 Made in USA

Available in Water to Air (Ducted) or Water to Water (Hydronic) heat pumps

Single phase and 3 phase models available
WaterFurnace has a long history of bringing innovative products, accessories, and components like communicating controls to the market. We're constantly striving to engineer ways to make our systems more efficient and cost-effective so that more and more consumers can enjoy them. For example, the 7 Series 700A11 was the first variable capacity geothermal 
water to air 
heat pump available to homeowners.
If you are interested in a quality Geoexchange heat pump please contact us today.